1st Phase Retreat at Spring Hill Renovation Completed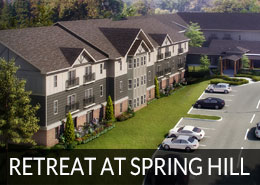 Housing Development Corporation's Development Team completed the initial phase of redevelopment activities for Retreat at Spring Hill in April, 2018. Upon completion of the initial phase of the construction and relocation project, which consisted of renovation of the fourth floor residential units, hallways and common areas, 25 residents have moved into the newly renovated units on the fourth floor - freeing up the third floor for the next phase of units to be renovated. The project is scheduled to be completed in the fourth quarter of this year.
As a senior property, renovation goals include features for aging in place and providing amenities based on best practices for apartment living for seniors to age in place. The residential unit renovation strategy includes redesigning the kitchen to facilitate an open floor plan, upgraded kitchen cabinetry, countertops, and energy efficient appliances. The community is also installing LED lighting throughout, luxury vinyl-plank flooring, as well as new energy efficient windows and patio doors.
LINK HERE to read more about unit and community features included in the renovation.
LINK HERE for a virtual tour of a newly renovated 1 bedroom apartment.