Brookleigh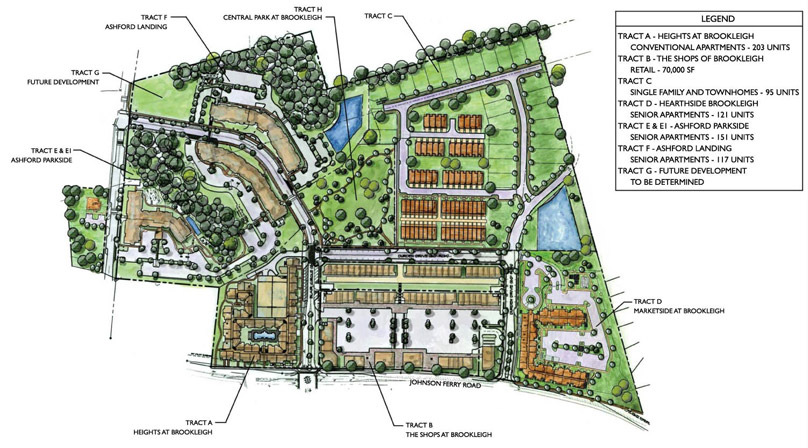 The Housing Development Corporation (HDC) began the redevelopment of the former Johnson Ferry East public housing community in 2005. Built in 1948, Johnson Ferry East was a 498-unit community consisting of 59 buildings and a community center. The complex was acquired by the HDC's affiliate, Housing Authority of DeKalb County, in 1978.
Brookleigh, located on 56 acres in northern DeKalb County on the former Johnson Ferry East public housing site, has been redeveloped to a multi-phase, mixed-use master plan, with an emphasis on mixed-income senior housing. The redevelopment plan was in response to the needs of the residents at Johnson Ferry East, the Housing Authority of DeKalb County, the local government officials, and the overall input received from the community stakeholders.
A master plan was developed primarily to meet the needs of these residents, with the first three phases of development being specifically designed as elderly replacement housing.
The remaining phases of Brookleigh include high-end single family homes, townhomes, luxury mid-rise apartments and a retail village. All are built around a central park.
The pedestrian friendly environment in Brookleigh has been created to support the well-being and provide a quality of life for the existing elderly residents, new residents, and the surrounding community.
The PATH Foundation multipurpose trail runs through the site, connecting the community to Blackburn Park, Murphy Candler Park and other destinations throughout metro Atlanta. The residents of these properties also have convenient access to public transportation, two supermarket-anchored shopping centers, restaurants, the Ashford-Dunwoody YMCA and nearby hospitals and medical facilities.
Brookleigh's green features have been recognized by the Georgia Urban Forest Council, which awarded the development its 2010 Outstanding Streetscape Revitalization Award.